Ready-to-use teaching modules
We've created five learning paths, each exploring a topic to do with discrimination and diversity. These are complete modules for educators to build their lessons around. At the heart of each path are short film clips in which young people talk about their experiences, both positive and negative, including instances of exclusion and discrimination. These clips are accompanied by guides and worksheets.
To follow a whole path, you will need three to five lessons of 50 minutes each, depending on whether you give homework assignments. We blend online and offline learning, incorporating group activities to help learners share their thoughts and ideas.
The five paths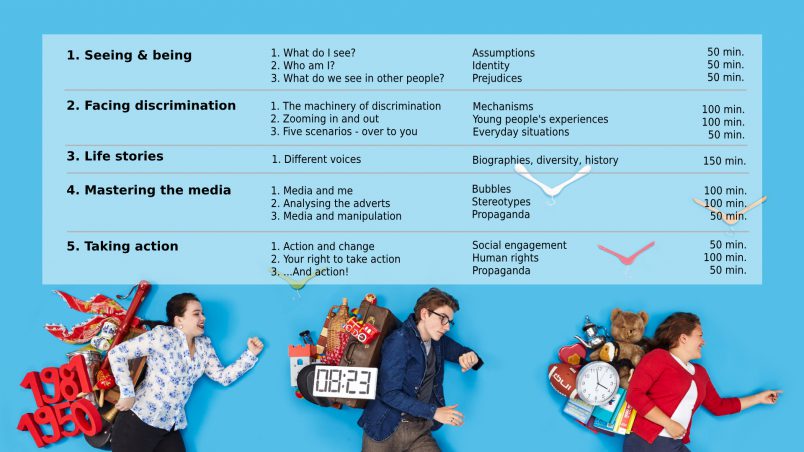 Seeing and being
This path explores how we see ourselves and others. We reflect on what identity means to individuals, and emphasise the value of diversity. Read more
Facing discrimination
Here we seek to understand how prejudices function, and examine examples of antisemitism, racism and other forms of discrimination that young people face. Read more
Life stories
This path focuses on the personal stories of individuals from various historical periods, helping learners reflect on discrimination past and present. Read more
Mastering the media
We look at how prejudices and hate speech are used in advertising and propaganda, online and offline, and invite learners to explore their relationship with the media. Read more
Taking action
This path asks learners to reflect on what taking action could look like, and explores some of the youth initiatives under way across Europe. Read more. Have a look at inspiring examples of young people across Europe that have taken action on this Stories that Move map.
How to use the resources
We've put these learning paths together to help, not limit, you. You can decide which paths and which videos are best suited to your learners and your curriculum. However, there is a sequence to the modules that helps create a strong learning curve. Start the toolbox to get the full benefit of the resources in context.
When using the tools and creating your own lessons, keep in mind the pedagogical approaches the resources are based on. We recommend a slow and considered learning process rather than jumping straight to the big, complex questions.
back to top