Olesia Panova from Kharkiv in north-eastern Ukraine conducts her lessons from München, in Germany. Just four of her students are still in their besieged home city near the Russian border, the others are scattered across unoccupied Ukraine and around Europe. She tries to be available around the clock for the ones in Ukraine as their electricity supply now dictates lesson times.
International Youth Exchanges and the war against Ukraine
Educators from six countries met in Poland at the Krzyzowa Foundation for Mutual Understanding in November to discuss how Stories that Move can contribute to international youth exchange programmes. The challenges faced by Ukrainian educators were a central topic. Youth leaders for NGOs in Ukraine, Poland, Germany and the Netherlands shared their experiences.
An impressive example of the connections and friendships that youth exchanges can bring about was shared by Olena Naumenko, teaching in Cherkasy (mid-Ukraine) – whenever there is electricity and internet. She told us about young Poles and Germans whose families opened their doors to fellow students at the start of the war. She very much welcomes (online) exchanges: "It is so important for them to feel that other young people are aware of the situation they are in and understand what war means. They often can't join classes, if they need to go to a shelter or if internet is down, but they long for contacts with the wilder world."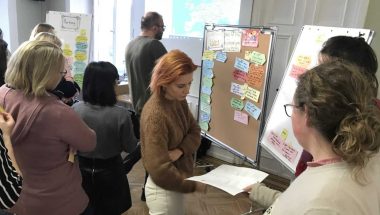 As a result of the meeting, a project is being planned with Chiara Galletti, a teacher from Italy experienced in eTwinning exchanges.
The Ukrainian journalist Elzara Galimova also interviewed three young activists, Sofia Bilohryva, Varvara Morozova and Lili Vostrikova, on their experiences. We will soon share their stories of resilience and creativity on Stories that Move. Elzara works for 'Voices of Children,' which provides art therapy to help children in conflict zones cope with anxiety.
Olena Glazkova, working with youth clubs in her home town Kremenchuk, said: "It is so important that young people can share their stories about surviving and their coping strategies. We are working on a project to show young people how to make their own videos."
Olga Kovalchuk is working in two German schools in Bavaria. She sees how her students struggle to find the motivation to learn German and to follow the German classes, as their focus is on going home to Ukraine. Many do online classes for the Ukrainian curriculum, so as not to fall behind.
The expert meeting discussed ideas on how to support Ukrainian teachers and students, in and outside their own country. Pilot exchanges are being planned to see how these might work on a larger scale.
Please contact us if you would like to be part of a group of educators supporting Ukrainian colleagues and we will invite you to an (online) meeting early in 2023.
back to top
---