The learning paths in detail
A learning path can be seen as a module that consists of 2 or 3 tracks, the lessons. Each track has online and offline components, and individual and group activities. We consider this form of blended learning important in relation to the topics we are dealing with. Sharing experiences and exploring opinions makes offline group work essential. For each learning path we offer an introduction for educators with tips and extra information per track.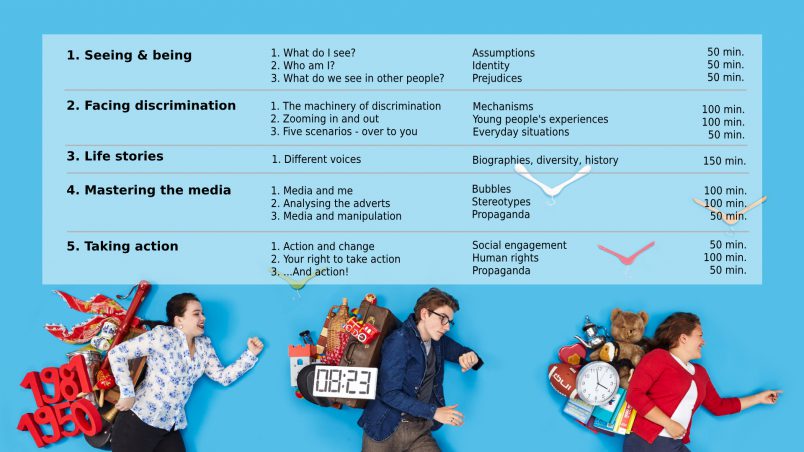 Each educator will be able to decide which learning paths and which tracks fit best to the needs of his or her learners and connect best to the curriculum. Each learning path and each track can be used as a stand-alone lesson. However, there is a logical sequence in the tracks, each one leading on from the previous one, allowing for a secure learning curve. It is best not to tackle the complex questions in haste, but to strive for a slow and thoughtful learning process. We suggest you devise your own series of lessons, keeping in mind the pedagogical principles on which these learning paths were designed.
Seeing & being
Exploring how we see ourselves and others, reflecting on the multiple identities people have, and the need for a positive approach to diversity. Read more
Facing discrimination
Understanding how prejudices and discrimination function and showing multiple examples of antigypsyism, antisemitism and other forms of discrimination that young people face. Read more
Life stories
By exploring the personal stories of individuals, from different periods of history, learners reflect on the continuity and discontinuity of discrimination. Read more
Mastering the media
Looking at how propaganda, stereotyping, prejudices and hate speech are part of the online domain. Read more
Taking action
Reflecting on what taking action means and empowering young people by sharing examples of youth initiatives on different scales throughout Europe. Read more
back to top